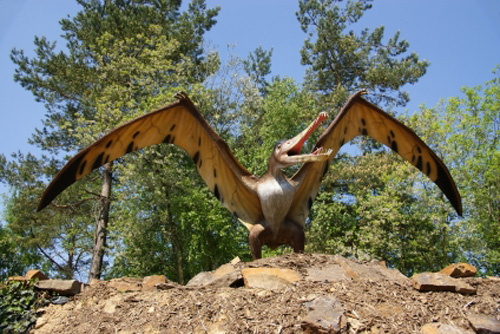 Welcome to DinosaurBreeders.com!
Located in beautiful western Maryland, we have owned and bred healthy, happy, show-quality dinosaurs since 2008. Our hatchery operates under strict federal & state guidelines, as well as our own rigorous standards of breeding, raising and placing our babies.
What to Expect from DinosaurBreeders.com:
(Or, What You Won't Get from a Fly-by-Night Mill)
• Physically and temperamentally sound babies, regardless of species
• Proven show-quality specimens
• Fully-licensed and registered documentation of champion bloodlines
• All-inclusive obedience training and care lessons provided on-site
Hatchery News:
Dec 2011
Happy holidays from the hatchery! The last clutch of pterosaurs has been claimed for the year. We expect breeding season to kick off again in April as the weather warms. If you're hoping to adopt, please follow us on Facebook or Twitter. We'll make announcements on availability as the breeding season begins. In the meantime, please enjoy our educational comic strip on caring for a dinosaur.
Sept 2011
Our most virile stud at the ranch, Milo, is a daddy again! We have a beautiful new clutch of pterosaurs that are almost ready to go home. Unfortunately all these babies have been claimed, but we're expecting several new hatchlings before the year's end. Be sure to visit us regularly for more hatchery news.
Want to pre-qualify to adopt a dinosaur? Please fill out our application.
Get Social With Us: